Taking a red line to the entire asset class might save an investor some heartache, but it will almost certainly cause them to miss out
on exceptional opportunities
.
Download the White Paper
To some investors, 2017 may be remembered as the year that brick-and-mortar died. But to a handful of savvy investors, 2017 signaled a major shift in opportunity. As with any major disruption, there will be winners and losers and, while much has been written about the "Retail Apocalypse," there is much to be said about the potential upside from a private credit perspective.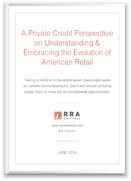 Retail is not dead -- it is just in transition.
In this white paper, you will learn about:
The elements eroding the retail market
Businesses that are embracing the evolution
What landlords, owners, and developers are doing with vacant retail space
How retailers are adapting to this disruption by focusing on "experiential shopping" both online and in-store.


"The key is not to predict the future, but to prepare for it."


-Pericles
*Part Two of this publication outlines RRA's underwriting method and is available to clients and investors only. Please contact info@rracos.com to obtain a copy.